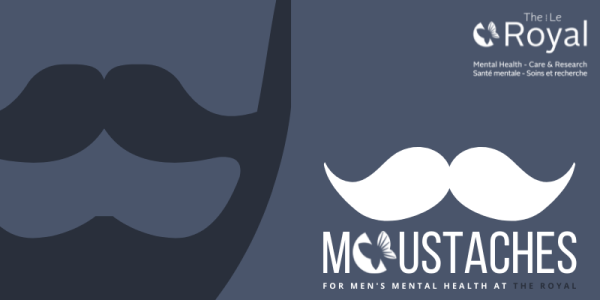 Raising awareness around mental health and substance use among men and the benefits of treatment are important to help men in our region live healthier lives.
Moustaches for Mental Health is a program designed to help bring men together to break down stigma and have men become more comfortable to reach out for help.


Men need to know that not only is it okay to talk about mental health concerns, but that seeking both formal and informal supports can help save lives.
Although not diagnosed with depression as commonly as women, men tend to fall under the radar, partially due to not seeking out help, but also because sometimes men can show different symptoms than typically expected from depression (e.g. anger and aggression vs. sadness, somatic symptoms, increased risky behaviours such as substance use, gambling, and sex). This can lead to the underlying issue being misunderstood by men, their loved ones, and health professionals alike.
Where does the money go:
The fundraising campaign will help raise awareness of mental health and substance use issues among men.
To help address access barriers which prevent men from seeking help.
Ultimately, The Royal would like to increase the number of men seeking help for mental health and substance use issues in order to help them live healthier lives.